Seven-Year-Old "Super Human" Recovering From Five-Organ Transplant Surgery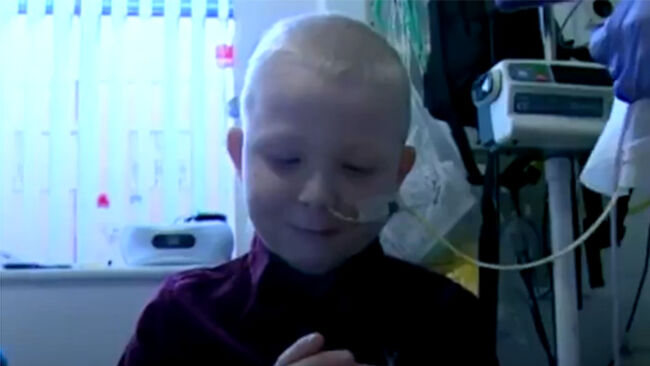 A seven-year-old boy has been released from the hospital just four weeks after a complicated ten-hour surgery to replace five organs. Jay Crouch suffered major organ damage when his small intestine became twisted when he was just six-weeks-old. Crouch spent most of his young life in and out of hospitals for various medical issues including anemia and chronic renal failure. He was unable to eat and had to be fed through a tube.
Surgeons knew that without the rare procedure Crouch would die. In March, his family received news that a boy not much younger than Jay had passed away and that his organs were suitable for transplant.
Jay's mother Katie Freestone told the Mirror that when she got the call she started crying because she realized that another family had lost their child.
"When I got the call, I cried, because I knew it was a smaller donor and that's so sad.

"You can't express your gratitude enough towards them. There are not enough words.

"Without the organs, Jay would not have survived. Saying thank you really doesn't cover it. We don't know much about the donor at all. All we know is it was a child smaller than Jay.
It has been 20 years since surgeons at Birmingham Children's Hospital attempted the complicated surgery. Doctors had to remove Jay's liver while simultaneously removing the kidneys, pancreas, liver, and intestine from the donor.
The five organs were removed in one "block" – meaning there were just six connections needed to attach them to Jay's arteries in the ten-hour operation at Birmingham Children's Hospital.
Surgeons warned Crouch's mother that her son had a long and tedious recovery ahead of him. But, Crouch impressed everybody and was able to head home just one month after the grueling surgery. Katie said she "knew he would do great."
"I knew he would do great, he's a little superhuman, I knew he would do well," the 28-year-old said.
He is not out of the woods yet though, as his immune system recovers from the transplant surgery. He must spend the next six months in isolation at his home to reduce the risk of infection.
"He's off [school] for six months because he's immunosuppressed," said Katie. "We are in isolation to make sure he doesn't pick up anything."
The family shared a video of Jay eating solid food for the firsts time ever. He enjoyed a piece of buttered toast for his first meal.